An interview with Bobby Cochrane on Screen Manchester
Author: Kaitlyn Hogg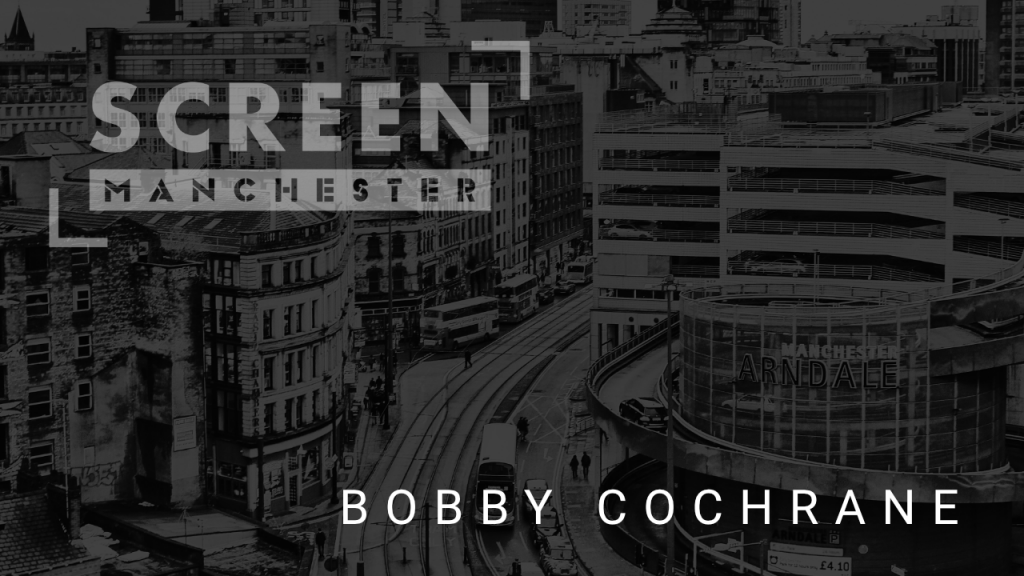 Manchester is the home of the Suffragette movement, the football league and Vimto. But did you know that it's also a main hub for film and tv production in the UK?
Manchester's locations have played host to the likes of BBC's Peaky Blinders, Sky's Little Birds, BBC One's Life, Netflix's The Crown and next year Sony Pictures' blockbuster Morbius, starring Jared Leto which filmed in Manchester's Northern Quarter will finally make it to screen. Other new series filmed in Manchester set to transmit in 2021 include Intergalactic (Moonage Pictures for Sky), It's a Sin (Red Production Company for Channel 4), The Irregulars (Drama Republic for Netflix) and The Barking Murders (ITV Studios for BBC).
And at the heart of Manchester's film and TV scene is Screen Manchester.
We spoke with Screen Manchester's Film Office Manager, Bobby Cochrane, this week to discuss how Screen Manchester built the film office, whilst working with Openbrolly, other film offices and stakeholders to become one of the busiest film offices in the UK.
Background
Screen Manchester originated in July 2017 to provide a comprehensive support service for a variety of productions seeking permission to film in locations throughout Manchester. They work in consultation with Manchester City Council, Greater Manchester Police (GMP), Transport for Greater Manchester (TfGM) and CityCo to facilitate all levels of film & TV applications across the city. Screen Manchester is part of the investment Manchester City Council has made into developing the infrastructure of TV and film production within the city. This also includes production facilities like Space Studios Manchester and The Sharp Project, which contribute to making the city and wider region a key destination for productions from across the world.
So, how did Bobby get into running such a busy film office?
"I started doing work experience for a company called North West Vision back in late 2003. At that time, I was assisting in the Cheshire Film Office and it was at that point that Cumbria had just moved under the control of the North West region and it was my job to scan boxes of location photographs into the locations database.
Whilst doing this work the position of Office Runner in North West Vision's Manchester office came up and I was successful in obtaining the role. The office was based at the former Granada Studios site in Manchester City Centre and this was a fantastic opportunity for me to learn more about the industry and how it worked. Since then I have worked as Assistant Film Liaison Officer, Production Liaison Coordinator, Locations Liaison Manager and now Film Office Manager. I've been working within production liaison in Manchester since 2004 and have facilitated a wide range of feature film, TV drama and commercial productions. In July 2017 I started my position as Film Office Manager at Screen Manchester to launch the full range of production services for the city."
Bobby and the rest of the team, Sam Wagster (Production Liaison Coordinator) and Colin Johnson (Managing Director) have helped to shape the popularity Screen Manchester sees today. Together they deliver a comprehensive support service for all levels of production in the city, making them one of the busiest film offices in the UK.
Film Offices traditionally don't have high volumes of staff and Screen Manchester is no different. Having a good working relationship in the team is key in making sure the office works effectively for the requirements of the film & TV industry. They strive to make a production's vision on location a reality.
"We have worked extremely hard over the years to provide what is now an industry respected service that makes producing content in Manchester a seamless and first class experience."
With the breathtaking facilities Screen Manchester has to offer, it comes as no surprise that companies such as Netflix, the BBC, ITV and Sky are becoming regular visitors. For Manchester this means a boost to the local economy, jobs created and an important part to play in one of the fastest growing industries in the world.
Bobby's final thoughts:
"The aim is to continue to attract high-end returning drama series and feature films to the city and to showcase the wealth of highly experienced locally based crew and facilities available to incoming productions. As Manchester's Space Studios continues to develop with two new 20,000 sqft sound stages being built on their current six stage complex, this will continue to highlight the city as a beacon for national & international producers and as a team we look forward to what this may bring for the city."
Find out more about Screen Manchester here.
Learn what MovieSite can do for your Film Office here.
Thank you for your time Bobby! We look forward to seeing what you get up to in 2021.